Your home is a very personal place and we take great pride in creating the space that's perfect for you.
Whether expanding an out-of-date kitchen, creating a fabulous bathroom in a new master suite, putting your kids unique stamp on their own theme room or adding a media room for the entire family, our expert staff is available to work with you from the design process through the final finish.
At Graf Developments, our goal is to make your remodel an exceptional reality.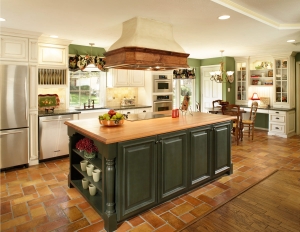 We specialize in exclusive home interior remodeling and have been serving the Dallas area and DFW Metroplex since the mid-1980s, including White Rock Lake, Lakewood, Lake Highlands, the Park Cities, Richardson, Plano, McKinney, Southlake, Coppell, and Kessler Park. We are also proud to announce service availability in the Austin metro area.
As a part of your team, Graf Developments will ensure that your entire remodeling project goes smoothly. We offer complete services from design to finish. We provide custom cabinetry, custom countertops, specialty tile and flooring of all materials, custom paint, custom lighting and electrical, and specialty plumbing and appliance installation.
We welcome challenges and can deliver virtually any idea you can dream!
Bruce Graf is a third generation contractor. At age 22 while working for his father, Graf gutted and completely remodeled the whole interior of the real Southfork Ranch, from the TV show Dallas. It was his entry into the world of luxury residential remodeling.
Bruce is not only an administrator, he has performed almost every trade job in the remodel industry and continues to work alongside his talented, permanent team and reliable, professional sub-contractors.
Bruce is certified by NARI, the National Association of the Remodeling Industry, and is a National Association of Homebuilders Certified Aging-in-Place Specialist.
NARI certified contractor and past board member
NARI "Contractor of The Year" in a variety of categories over multiple years
NKBA (National Kitchen and Bath Association) member
National Association of Homebuilders CAPS certification
BBB (Better Business Bureau) "Accredited" member with an A+ rating
Full liability insurance carrier
In addition to managing his own projects and team, Bruce Graf is a nationwide renovation consultant. He is available for consulting anywhere in the U.S., providing his valuable expertise for home remodeling projects of any budget. As a part of your team, Graf will ensure that your entire remodeling project goes smoothly. For more information call (972) 571-6076.
Awards
Bruce Graf has received recognition as Contractor of the Year (CotY) by NARI, the National Association of the Remodeling Industry, on a number of occasions, locally, regionally, and nationally.
Bruce is the recipient of the Chrysalis Award for Remodeling Excellence judged by editors and writers of such consumer publications as Better Homes & Gardens, Woman's Day, Home Remodeling & Makeover, Southern Living Magazine, and Sunset Magazine. The award honors talent, creativity, and professionalism within the remodeling industry.
2017 Houzz "Best of Design" Winner
2016 Houzz "Best of Design" Winner
2015 Houzz "Best of Design" Winner
2014 Houzz "Best of Design" Winner
2012 NARI Regional CotY Award – Residential Kitchens, $80,000 to $120,000
2009 NARI National CotY Award – Theater/Media Rooms Under $150,000
2009 Chrysalis Award – Residential Specialty – Regional Winner
2009 Chrysalis Award – Home Theater and Media Room – Regional Winner
2008 NARI Regional CotY Award – Commercial Specialty
2007 NARI Greater Dallas CotY Award – Residential Kitchen $60,001 to $100,000
Why is Bruce Graf award-winning? Check out our portfolio to see some of the reasons or get more details on some of our projects in our design stories. You can also read what our clients have to say about us in our testimonials or contact us today so we can discuss your renovation project.